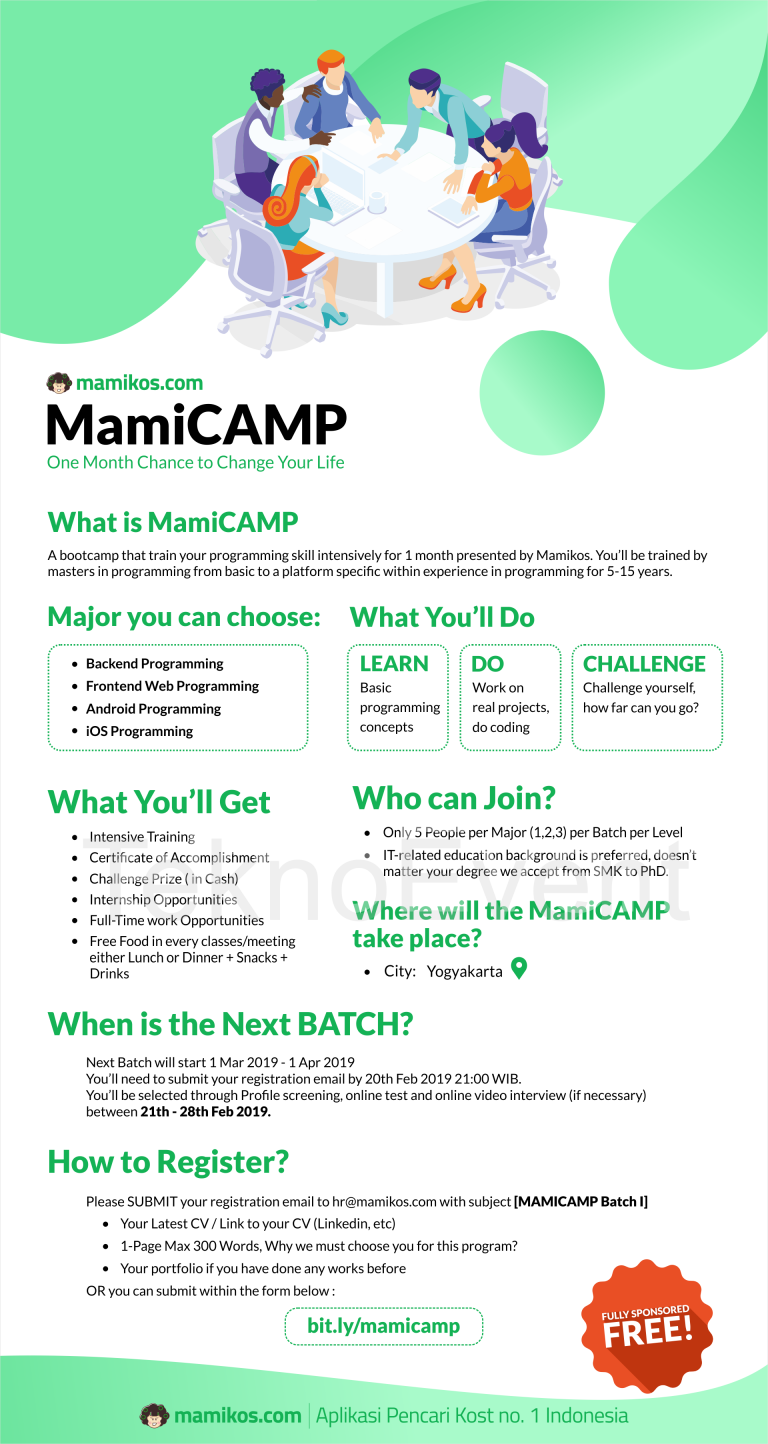 Bootcamp gratis yang akan melatih keterampilan pemrograman kamu secara intensif selama 1 bulan dari Mamikos.
Kamu akan dilatih oleh master dalam pemrograman dari dasar ke platform khusus dalam pengalaman dalam pemrograman selama 5-15 tahun sekaligus ikut terjun langsung pada projek coding dan pastinya dirimu akan ditantang sejauh mana kemampuan kamu.
Program ini sepenuhnya disponsori oleh MAMIKOS tetapi hanya mereka yang memenuhi syarat untuk dapat bergabung. Kami tidak menawarkan program berbayar untuk saat ini.
Di sini kamu dilatih langsung oleh CTO & Lead Developers of Mamikos yang telah banyak berpengalaman di bidangnya
Ada 4 kategori yang bisa kamu pilih:
1. Backend Programming
2. Frontend Programming
3. Android Programming
4. iOS Programming
Apa yang Kamu Dapat di Bootcamp Ini ?
1. Intensive training
2. Certificate of Accomplishment
3. Challenge Prize (in cash)
4. Internship Opportunities
5. Free food in every class/meeting either lunch or dinner, snacks & drinks
Siapa yang Boleh Ikut Bootcamp Ini ?
1. Only 5 people per major (1,2,3) per batch per level
2. IT related education background is preferred, doesn't matter your degree we accept SMK to PhD
Kapan Batch Selanjutnya ?
Batch selanjutnya mulai 1 Maret – 1 April 2019
Kamu harus mengirimkan email pendaftaran sebelum 20 Februari 2019 jam 21:00 wib
Akan ada seleksi melalui profile screening, online test & online video interview ( bila diperlukan) antara tanggal 21-28 Februari 2019
Cara Daftarnya ?
Silakan kirimkan email pendaftaran kamu melalui email [email protected] dengan subject MAMICAMP Batch l, berisi:
1. CV/link CV terakhir kamu (LinkedIn etc)
2. 1 halaman berisi alasan kenapa kami harus memilih kamu di dalam program ini ( 1 page max 300 words)
3. Protofolio kalau kamu jika kamu sudah pernah kerja sebelumnya
Atau kamu juga bisa submit ke Pendaftaran MamiCamp 2019